Earn an Online Masters of Science in Psychology
The Master of Science in Psychology program offered at USW is a 36-credit hour degree plan that will prepare professionals and inquisitive minds for various avenues in the field of psychology. With the ability to complete the entire program fully-online and in only two (2) years, students will emerge with a thorough knowledge of psychology and its frameworks. An MS in Psychology can prepare graduates for career options in fields such as: child and family services, community organizations, government, human resources, law enforcement, market research, health care, education, and non-profit organizations. Whether students seek to enhance their current careers, change careers, or simply continue their education, this program will allow the flexibility, affordability, and convenience to effectively do so.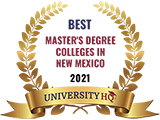 The College of Business Administration at the University of the Southwest has received specialized accreditation for its business programs through the International Accreditation Council for Business Education (IACBE) located at 11960 Quivira Road in Overland Park, Kansas, USA. For a list of accredited programs please view our IACBE Member status page.
NON-DISCRIMINATION POLICY
University of the Southwest admits students of any race, color, national and ethnic origin to all the rights, privileges, programs, and activities generally accorded or made available to students at the institution. USW does not discriminate on the basis of race, color, national and ethnic origin, physical handicap, or sex in the administration of its educational policies, admission policies, employment policies, scholarship and loan programs, athletics and other university-administered programs.