Apply to our Flexible Online MBA in Human Resource Management Program - Enrolling Now!
The MBA in Human Resource Management is designed to prepare individuals to function as successful HR professionals in both private industry and the public sector.  The program provides the content focus for both in-career and transitional students seeking become HR specialists with the desire to address issues with organizational performance and productivity.  As a 36-hour, accelerated online program, it can be completed in 12 months. With a strong emphasis upon practical application of knowledge, program courses are taught by practitioner-scholars bringing executive-level experience to the classroom.
 The Society for Human Resource Management (SHRM) acknowledges the MBA in Human Resource Management from University of the Southwest is aligned with SHRM's HR Curriculum Guidebook and Templates. Throughout the world, over 400 programs in approx. 375 educational institutions have been acknowledged by SHRM as being in alignment with its suggested guides and templates. The HR Curriculum Guidebook and Templates were developed by SHRM to define the minimum HR content areas that should be studied by HR students at the undergraduate and graduate levels. The guidelines -- created in 2006 and revalidated in 2010, 2013 and 2017 -- are part of SHRM's Academic Initiative to define HR education standards taught in university business schools and help universities develop degree programs that follow these standards.
 Our excellence in business curriculum and supportive educational community has helped students achieve success for nearly 50 years.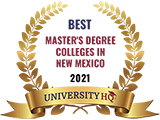 The College of Business Administration at the University of the Southwest has received specialized accreditation for its business programs through the International Accreditation Council for Business Education (IACBE) located at 11960 Quivira Road in Overland Park, Kansas, USA. For a list of accredited programs please view our IACBE Member status page.
NON-DISCRIMINATION POLICY
University of the Southwest admits students of any race, color, national and ethnic origin to all the rights, privileges, programs, and activities generally accorded or made available to students at the institution. USW does not discriminate on the basis of race, color, national and ethnic origin, physical handicap, or sex in the administration of its educational policies, admission policies, employment policies, scholarship and loan programs, athletics and other university-administered programs.