Program Overview
The Doctor of Business Administration in Healthcare Administration program is a multidisciplinary, 100% online program designed for professional administrators, executives, and leaders in the healthcare industry. The program highlights the importance of leadership when formulating and executing initiatives within a healthcare organization. Students benefit from a curriculum focused upon real-world knowledge creation, executive-level problem-solving, thought-leadership in practice, and an intensive emphasis upon applied research. The program prepares candidates for executive and/or administrative roles in healthcare and to become innovative leaders and problem solvers in the industry.
Admission Criteria
Required:
A conferred master's degree from a regionally accredited university;
A grade point average (GPA) of 3.0, or higher, on a four-point scale in all graduate coursework;
Three years, or more, of industry experience in the selected field of study;
Official transcript(s) for Master's Degree;
Program admission application;
Program admission essay*, Resume/CV and 2 letters of reference
*Program admission essay is an opportunity to demonstrate to the committee why you wish to pursue a doctoral degree at the University of the Southwest and showcase graduate-level writing abilities for their consideration. The essay should be 1,000-1,500 words explaining what you hope to achieve by pursuing a doctoral degree, the personal strengths that will help you succeed in a doctoral program, and describe how obtaining a DBA will help you institute a positive social change within your chosen field or industry.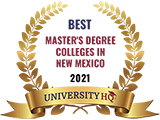 The College of Business Administration at the University of the Southwest has received specialized accreditation for its business programs through the International Accreditation Council for Business Education (IACBE) located at 11960 Quivira Road in Overland Park, Kansas, USA. For a list of accredited programs please view our IACBE Member status page.
NON-DISCRIMINATION POLICY
University of the Southwest admits students of any race, color, national and ethnic origin to all the rights, privileges, programs, and activities generally accorded or made available to students at the institution. USW does not discriminate on the basis of race, color, national and ethnic origin, physical handicap, or sex in the administration of its educational policies, admission policies, employment policies, scholarship and loan programs, athletics and other university-administered programs.