Program Overview
A specialty in Accounting offers superb career opportunities. Most accounting majors are hired by their last semester of study and often times there are more jobs than graduates to fill them. Accounting graduates work in public accounting as auditors, tax specialists and consultants; in private firms in both financial and cost accounting and for governmental and not-for- profit entities as internal auditors and financial accountants. Completion of required coursework can lead to licensing as a Certified Public or Managerial Accountant or graduate degrees in accounting or law.
University of the Southwest is a private university located in Hobbs, New Mexico that offers 100% online accredited degrees that fit your time and budget. At University of the Southwest, you'll gain a quality career oriented education while developing individual faith, responsibility, and initiative.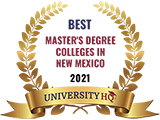 The College of Business Administration at the University of the Southwest has received specialized accreditation for its business programs through the International Accreditation Council for Business Education (IACBE) located at 11960 Quivira Road in Overland Park, Kansas, USA. For a list of accredited programs please view our IACBE Member status page.
NON-DISCRIMINATION POLICY
University of the Southwest admits students of any race, color, national and ethnic origin to all the rights, privileges, programs, and activities generally accorded or made available to students at the institution. USW does not discriminate on the basis of race, color, national and ethnic origin, physical handicap, or sex in the administration of its educational policies, admission policies, employment policies, scholarship and loan programs, athletics and other university-administered programs.