Apply to our Flexible Online MBA Executive Track Program - Enrolling Now!
This program is designed for working professionals who want to develop the strategic business skills necessary to succeed in today's competitive market. This program provides an accelerated pathway to earning an MBA.  Students will learn about topics such as accounting, finance, marketing, economics, and business strategy. Through this program, students will gain the ability to understand and analyze complex business problems and develop sound decision making skills. This program will also provide students with the opportunity to develop their professional skills in communication, teamwork, critical thinking, and problem solving. After completing this program, students will be prepared to take on leadership positions in their chosen field of business.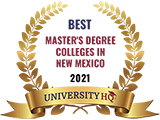 The College of Business Administration at the University of the Southwest has received specialized accreditation for its business programs through the International Accreditation Council for Business Education (IACBE) located at 11960 Quivira Road in Overland Park, Kansas, USA. For a list of accredited programs please view our IACBE Member status page.
NON-DISCRIMINATION POLICY
University of the Southwest admits students of any race, color, national and ethnic origin to all the rights, privileges, programs, and activities generally accorded or made available to students at the institution. USW does not discriminate on the basis of race, color, national and ethnic origin, physical handicap, or sex in the administration of its educational policies, admission policies, employment policies, scholarship and loan programs, athletics and other university-administered programs.