Program Overview
A specialty in Sports Management prepares students for a variety of positions in the domestic and international sports industry. These include general manager of a professional sports team, sport equipment sales, radio announcers, corporate sports department, recreational directors for public, private and not-for-profit organizations, directors of sports arenas and sports agents. The students will gain a foundation in economics, management, sociology, project planning and law with a strong emphasis on hands-on applications so that learning is specific to the sports industry. Upon completion of coursework students may apply for certification with the National American Society of Sport Management and with the National Association for Sport and Physical Education.
University of the Southwest is a private university located in Hobbs, New Mexico that offers 100% online accredited degrees that fit your time and budget. At University of the Southwest, you'll gain a quality career oriented education while developing individual faith, responsibility, and initiative.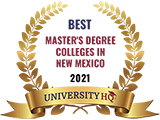 The College of Business Administration at the University of the Southwest has received specialized accreditation for its business programs through the International Accreditation Council for Business Education (IACBE) located at 11960 Quivira Road in Overland Park, Kansas, USA. For a list of accredited programs please view our IACBE Member status page.
NON-DISCRIMINATION POLICY
University of the Southwest admits students of any race, color, national and ethnic origin to all the rights, privileges, programs, and activities generally accorded or made available to students at the institution. USW does not discriminate on the basis of race, color, national and ethnic origin, physical handicap, or sex in the administration of its educational policies, admission policies, employment policies, scholarship and loan programs, athletics and other university-administered programs.