Advance Your Career with an Online Masters in School Counseling
University of the Southwest's Master of Science in Education, School Counseling is a 42-credit, fully online degree program designed to prepare you for licensure as a school counselor in elementary, middle, and high school settings. 
With coursework in counseling theories and techniques; counseling ethics; career development; and group, family and child/adolescent counseling, you will develop the knowledge and skillset to interact with students from varying backgrounds and serve as an advocate for their academic, career and personal success. You will learn how to:
 Focus on the relations and interactions between students and their school environment with the expressed purpose of reducing the effect of environmental and institutional barriers that impede student academic success
Assist students with evaluating and considering future educational and career paths
Provide an atmosphere where all students can learn
Practicums and an internship are required and can be completed in a variety of settings. 
Out-of-State-Residents: Please contact your state's department of education to determine if University of the Southwest's program meets your state's licensing and certification regulations.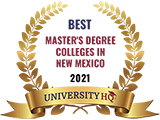 The College of Business Administration at the University of the Southwest has received specialized accreditation for its business programs through the International Accreditation Council for Business Education (IACBE) located at 11960 Quivira Road in Overland Park, Kansas, USA. For a list of accredited programs please view our IACBE Member status page.
NON-DISCRIMINATION POLICY
University of the Southwest admits students of any race, color, national and ethnic origin to all the rights, privileges, programs, and activities generally accorded or made available to students at the institution. USW does not discriminate on the basis of race, color, national and ethnic origin, physical handicap, or sex in the administration of its educational policies, admission policies, employment policies, scholarship and loan programs, athletics and other university-administered programs.