Get Started Here
By submitting this form, I agree that University of the Southwest may contact me about educational services by email, phone, and text message at the contact information provided. Message & data rates may apply. I understand that my consent to receiving email, phone, and/or text messages is not required in order for me to attend University of the Southwest.
Online Master of Science with an Emphasis in Health and Human Performance
The Master of Science degree with an emphasis in Health and Human Performance is a 30 hour program delivered entirely online. This program is designed to develop trained health professionals for a career in Exercise Physiology, Sports History, Motor Development and Learning, Sports Medicine, Sport Psychology, Sport Management, Health Education or Kinesiology among others. The coursework is designed to allow students to develop and demonstrate their knowledge, skills, and abilities in the areas of clinical evaluation, fitness assessment, nutrition, and exercise prescription. As student's progress through the program they will have opportunities to work with healthy individuals, active ager's, cardiac patients, and centenarians; and to acquire knowledge about populations with chronic conditions such as diabetes, obesity, hypertension, chronic obstructive pulmonary disease and cardiac conditions, to enable them to understand and assist in their treatments. This customizable online program provides a quality learning environment that can include lecture, lab, practical experience, and internships to prepare students for a career as a health care professional. 
University of the Southwest is an accredited New Mexico university offering online, accredited degrees that fit your time and schedule. At the University of the Southwest, you'll gain a quality career-oriented education while developing individual leadership, responsibility, and initiative.
Our Degree Program is Enrolling Now
To begin your educational journey, fill out the form on the right hand side or call 1-833-879-4723 and we'll make sure you get the information you need. Get started today!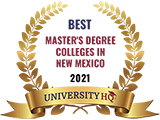 The College of Business Administration at the University of the Southwest is an Educational Member of the International Accreditation Council for Business Education (IACBE), and has affirmed its commitment to excellence in business education.