Earn an Online Masters of Arts in Christian Studies
The 100% fully online Christian Studies program is designed to equip the minister for service to Christ in the local church, mission field, parachurch ministry, or denominational leadership. This program balances biblical and theological foundations with practical ministry training. Students will be well-rounded in biblical, systematic, and historical theology while also learning how to incorporate that theology into practical ministry leadership. Graduates of this program go on to become pastors, associate pastors, missionaries, denominational leaders, and parachurch ministry leaders.
The program is 36 credit hours long and is designed to be completed in 2 years (at one class per term). Courses are asynchronous meaning students can complete the work for that week at any time that is convenient for their schedule. Classes are taught by terminally degreed professors who will provide personal mentoring for each student in every class. Students with an academic interest in Christian Studies may be invited to work alongside professors towards research and publication projects.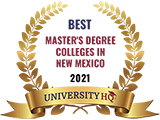 The College of Business Administration at the University of the Southwest is an Educational Member of the International Accreditation Council for Business Education (IACBE), and has affirmed its commitment to excellence in business education.
NON-DISCRIMINATION POLICY
University of the Southwest admits students of any race, color, national and ethnic origin to all the rights, privileges, programs, and activities generally accorded or made available to students at the institution. USW does not discriminate on the basis of race, color, national and ethnic origin, physical handicap, or sex in the administration of its educational policies, admission policies, employment policies, scholarship and loan programs, athletics and other university-administered programs.